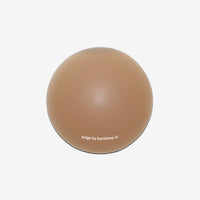 Seamless Opaque 2.0 Pasties
Regular Price

₱315.89

Sale Price

₱315.89

Regular Price

Unit Price

per
What's the Hype?
Unveil your new clandestine ally: BAREBONE's Seamless Opaque! These are far from your run-of-the-mill pasties; consider them the special ops of the undergarment world. Crafted to be your invisible sidekicks for those audacious white and sheer ensembles, they perform so seamlessly, you'll question if they're even there. The best part? They're not just for show; they're engineered to be sweatproof, waterproof, and ready for whatever soirée you've got on your calendar.
Who Needs This Magic?
This is tailored for you—the audacious, the stunning, and those who embrace their authentic selves! But let's get down to brass tacks: these silicone marvels have their preferences. They're a match made in heaven for round, wide, full-on-top, and full-on-bottom breast shapes. However, if you have conical or tubular breast shapes, or mild to severe ptosis, these might not be your perfect fit. Let's talk before you make the commitment, shall we?
The Magic Details ✨
Seamless: No ridges, no bumps, just smooth sailing.
Opaque: The hide-and-seek champion of 2022.
Gentle: Crafted with the softest medical-grade materials. Your skin will send thank-you notes.
Reusable: Good for up to 120 uses or more. Talk about value!
Washable: A little soap, a little water, and they're ready for their next mission.
Self-Adhesive: Our medical-grade adhesive is your new BFF. It's in it for the long haul.
Eco-Friendly: Kind to you and kind to Mama Earth.
Waterproof: Come rain or high tide, we've got you covered.
Pro Tips:
Form-fitting is Key: These pasties love a good, snug fit. The closer the attire, the better they adhere.
Longevity is Personal: While these pasties are designed for up to

 

120 uses, your mileage may vary. Longevity is highly dependent on your unique body chemistry and how carefully you handle them.
We're Here for You: If

 

you have questions, don't hesitate to reach out on Instagram

 

@barebonestore. We're committed to helping you find your perfect match and ensuring you have a seamless experience.
DISCLAIMER: Product shades may differ depending on the photographic lighting sources and your monitor's settings.
CAUTION: It's possible for anyone to experience sensitivity even when using the highest quality medical materials. If you are sensitive to adhesive, you may suffer from rashes or irritations. Women with adhesive sensitivity, open cuts, skin disorders, or a family history of skin depigmentation should NOT use this product. Should any rash or irritation occur, please discontinue use immediately.
LIMITS LIABILITY: We are not liable for any incidental, coincidental, or consequential damages resulting from our product use.
POLICY: Due to hygiene reasons, all undergarment sales are final and cannot be returned or exchanged. Read our full policy.
All Rights Reserved ©
Unauthorized copying, modifying, or distributing content from Barebone Store's website is prohibited. Reproducing or distributing this material without permission could be considered an infringement of copyright law.